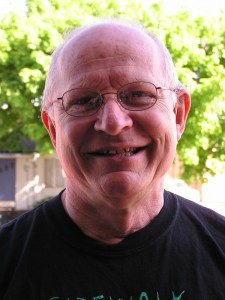 Since becoming a sculptor/craftsman in 1969, I have done thousands of metal projects and solved many problems for my clients. I enjoy and excel at both aesthetic challenges and practical ones.
For instance, I created a bronze dragon to hide a steaming furnace vent placed inappropriately adjacent to a new home front door. The offending steam now emits from the nostrils of my six foot long dragon, who resides on a pedestal like a sentry!
I built a 30 foot bell tower for a church (see pictures).
I helped a major performing magician create metal props for his show. (Confidentiality is respected where appropriate!)
I sculpt lamps, sculptures, functional objects and most everything using brass, bronze, copper, aluminum and stainless steel. Working with clients, I'm able to bring my experience and skill to bear on the specific task and need.
Since 1969, my work has been displayed in Hawaii, Carmel, Seattle, Portland and San Francisco. I was in the Goodfellow Catalog. My work is in the collections of Clair Booth Luce, Mark and Antoinette Hatfield, Portland's Emanuel Hospital, and the Hyatt House in Monterey. Alyeska Pipeline Corporation in Anchorage has a ten foot tall steel sculpture of mine in their lobby, and the Middle Oregon Indian Museum in Warm Springs has some custom chandeliers, also of steel, which I made. The Performing Arts Center at Pacific University in Forest Grove features two wall sculptures of mine designed of  brass, bronze, aluminum and copper.
Presently I work entirely from commissions.
Processes involve expertise in oxy/acetylene welding and cutting. I do silver soldering and soft solder work and I'm an expert brass welder. I also polish brass for clients. I do MIG and TIG welding on steel, stainless, aluminum, bronze and copper. I have a plasma cutter and a metal bending brake.
Offering a wide variety of approaches to clients' needs, I am welcoming, friendly, as I enjoy people. Please let me  know if I can be of help to you in any way. I enjoy a challenge, and I seldom do the same thing twice. Variety and creativity is my calling. If there's something you've been wanting in metal, I can do it! The Metalworks is where art and metal combine!
Eric Canon's Metalworks
1923 Elm Street
Forest Grove, Oregon 97116
Phone & Fax: (503) 357-3282